$70.00
Includes 50 training flag and 2 joiners
Feature Summary:150 meters,  .75mm Copper Core, Pure Polyethylene jacket
Hidden Fence brand has specifically designed dog fence boundary cable for toughness, accuracy and longevity. Our cable is manufactured in the USA. The Copper core is .75mm multi-strand, protected by a UV protected, pure .30mm polyethylene coating.
This cable can be used with any "branded" and "compliant" electric dog fence. Non-regulated versions sold on eBay and Gumtree will not work properly, as those transmitters may overheat. Non- regulated dog fence systems from china use a blue colored, mild steel .15mm telecommunication cable used in landline phones. This type of cable is not industry standard.
Hidden Fence boundary cable is the best and strongest in the industry. Simply the best…no getting around it!
.75mm Copper Core
multi- Strand
.30mm Polyethlyene Coating
UV Protected
150m spool
Description
Specifications:
Length:                 150m
Type:                     Stranded
Copper:               .75mm
Outer Diameter: 3mm
Coating:                 Polyethylene
UV Protection:     Yes
WaterProof:         Yes
PVC:                         No
UV Guarantee:      Yes, 15 years
Colour:                   Grey
This cable can be used underground, or on a fence line.
The UV Protection rating will ensure it will last in the
hot Australian sun, without breaking down.
Customers will typically buy this cable when replacing cable from other brands
that break down in the sun.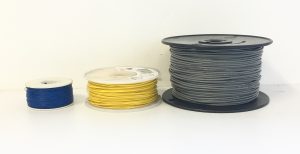 A comparison details the difference between two other popular wire options for electric dog fences.
As shown above, the size difference between cheap blue dog fence wire, and the common yellow cable is evident.
Additional information
| | |
| --- | --- |
| Weight | 0.25 kg |
| Dimensions | 3 × 2 × 3 cm |